https://www.csmonitor.com
 Finding flaws in 'remedial' approach, colleges switch focus
California often launches national trends. This time it's tackling education inequality, and it could be charting a better path to graduation for college students who need extra help with reading, writing or math.

The 30 Sec. ReadFrom Texas to Tennessee, policymakers and educators are revising their approaches to remediation in an effort to streamline the path from enrollment to graduation. This month, California State University – the largest four-year public university system in the country – announced "sweeping changes" to its developmental education policy, starting at placement and weaving through coursework and student support programs. About a third of California's 114 community colleges have adopted similar reforms. The new direction stems in part from a broader shift in priorities, as educators recognize the economy's growing demand for postsecondary certification. "The focus for some time now has been on getting students in the door," says Hans Johnson, director of the Higher Education Center at the Public Policy Institute of California. "The new focus has been on identifying better ways of overcoming the obstacles for students to succeed. Reforms in remedial education are one part of that." Students say this shift is welcome. "What I needed for my life was to start where I was at. Meet me where I am, school. Move forward," Lulu Matute says. "Remediation felt like we were going to move backwards."
Cambodian request renews question: Who cleans up after war?
In the aftermath of war, who has the moral responsibility for cleaning up the unexploded bombs? For some Cambodians, the answer to this question isn't merely academic.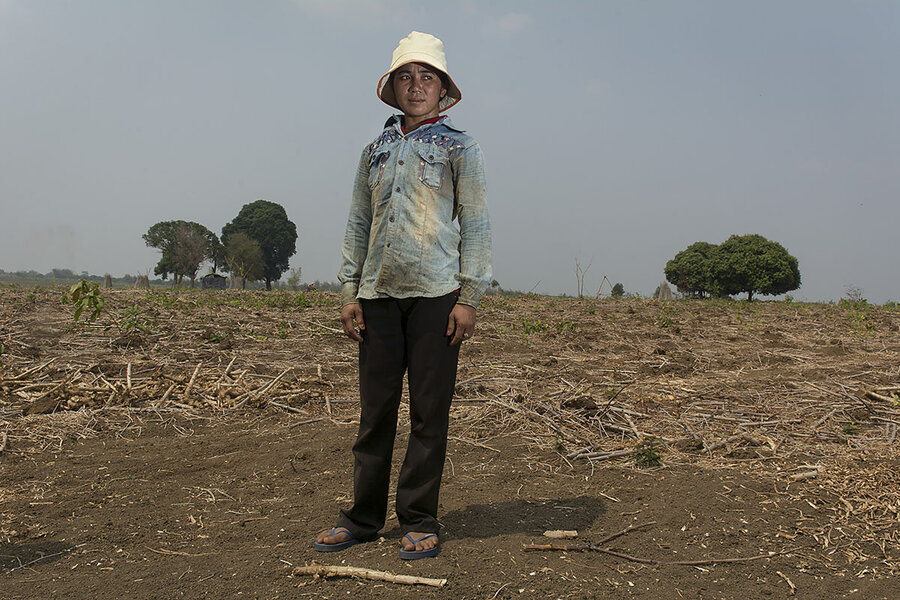 The 30 Sec. ReadOn Aug. 15, 1973, a flurry of American planes flew at least 225 military missions over Cambodia. It was the last day of a years-long covert bombing campaign, and it was ending because the secret was out – Congress demanded an end to the onslaught. But not all of the 2.7 million tons of ordnance that US forces dropped on the small Southeast Asian nation exploded on impact, and today, explosions regularly upend the lives of people here in Ratanakiri Province. It's a post-conflict legacy thrust back into the spotlight this year when Prime Minister Hun Sen reiterated his refusal to pay back a wartime debt to the United States, calling it "blood-stained." But the bigger question – who's responsible for postwar cleanup – extends beyond Cambodia to any conflict zone. Ethicists have debated "just war" issues for centuries, but some say modern warfare demands new attention to post-conflict responsibility, particularly for conflicts that ended long ago. "Academic and even military-officer interest is substantial and growing," says Brian Orend, a professor at the University of Waterloo in Ontario, but "these things take a long, long time to get the attention of state governments." 
By 

Karen J. Coates

 

Contributor

By 

Jerry Redfern

 

Contributor
AMERICAN CLOSEUPS
Reports from the road
The family paper that took on Big Ag, and won a Pulitzer
This story is a portrait of a small Iowa newspaper punching well above its weight. Truth deftly delivered, it turns out, is an effective agent of change.

The 30 Sec. ReadArt Cullen looks startlingly like Mark Twain, and writes like him, too: sometimes folksy, sometimes eloquent, and customarily outraged. The editor of a newspaper in Storm Lake, Iowa, he has taken on powerful interests. "It's important for somebody to say, 'Hey, we are going too far,' " Mr. Cullen says simply. "That's our basic function as a free press in a small rural place." Deep in Trump Country, he has defended the tide of immigrants who have rushed into this conservative corner of Iowa. He forced the mighty Agribusiness Association of Iowa to back down, and dismissed a chunk of his own farmer readers. His editorials foiled a secret arrangement by local authorities to allow big-farm interests to fight a lawsuit seeking improved water quality in the town's namesake lake. For all that and more, he won the Pulitzer Prize this year. As small-town papers have lost advertising, cut staff, and been bought by corporate chains, too often they have lost the sharp teeth of their traditional watchdog role. Not Cullen's Storm Lake Times.
By 

Doug Struck

 

Correspondent
THE MONITOR'S VIEW
Why the US demands China innovate, not steal
The 30 Sec. ReadA new US push to investigate China's alleged theft of specific US patents, copyrights, and other intellectual property could result in new restrictions on Chinese imports. But it might also have a positive effect. It could force China to focus even more on developing a business culture that fosters creativity and a freedom of thought that challenges norms. Most of all, Chinese researchers and entrepreneurs need to become better at overcoming a fear of failure in trying new ideas. At the least, the US push is another signal for China to expand freedom and reduce fear among its researchers and entrepreneurs. The rest of the world expects – and assumes – that China can do this.
By 

The Monitor's Editorial Board

 
https://www.csmonitor.com/
In the dark of night, Baltimore quietly removes its Confederate statues
The rally over the past weekend of what is believed to be the largest gathering of white supremacists in a decade in Charlottesville, Va., prompted another Southern city to take down its Confederate statues without delay.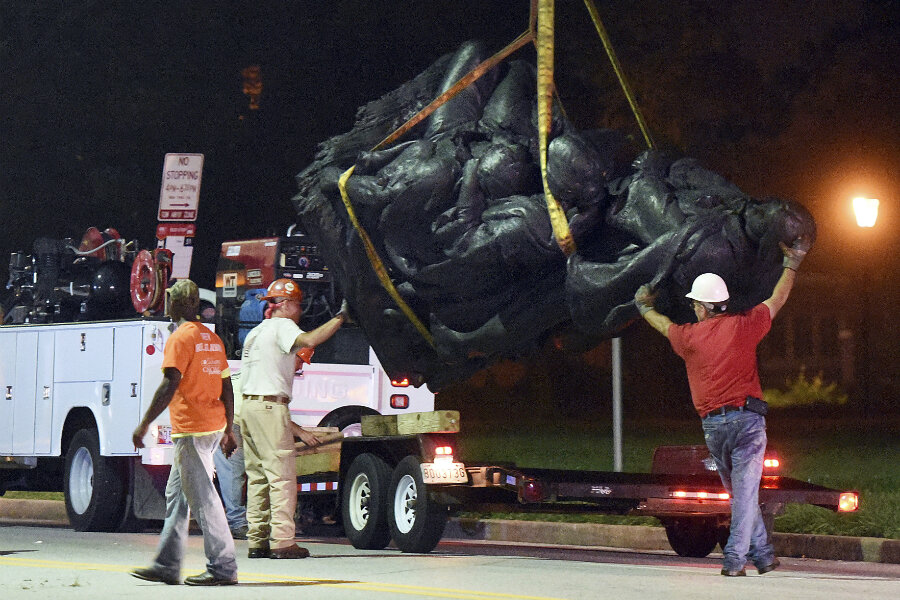 Jerry Jackson/The Baltimore Sun/AP
|
 BALTIMORE—Confederate monuments in Baltimore were quietly removed and hauled away on trucks in darkness early Wednesday, days after a violent white nationalist rally in Virginia that was sparked by plans to take down a similar statue there.
Baltimore Mayor Catherine Pugh told The Baltimore Sun that crews began removing the city's four Confederate monuments late Tuesday and finished around 5:30 a.m. Wednesday.
"It's done," Mayor Pugh told the newspaper. "They needed to come down. My concern is for the safety and security of our people. We moved as quickly as we could."
Workers used cranes to lift the towering monument to Robert E. Lee and Thomas J. "Stonewall" Jackson onto a flatbed truck in the dark.
Pugh said Monday that she had contacted two contractors about removing the monuments, but declined to say when they would come down, saying she wanted to prevent the kind of violence seen in Charlottesville, Va. Pugh said at the time that she wants the statues to be placed in Confederate cemeteries elsewhere in Maryland. 
A commission appointed by the previous mayor recommended removing a monument to Marylander Roger B. Taney, the Supreme Court justice who wrote the Dred Scott decision denying citizenship to African-Americans, as well as a statue of two Virginians – the Confederate generals Lee and Jackson.
Instead, former Mayor Stephanie Rawlings Blake put up signs calling them propaganda designed to falsify history and support racial intimidation.
Baltimore's swift removal of the monuments comes days after what is believed to be the largest gathering of white supremacists in a decade – including neo-Nazis, skinheads and Ku Klux Klan members. They descended on Charlottesville for a rally prompted by the city's decision to remove a monument to Lee.
Violent clashes broke out between white nationalists and counterprotesters and a woman was killed when a car plowed into a crowd of people who were there to condemn the white nationalists.
A memorial service for 32-year-old Heather Heyer is scheduled Wednesday morning at a downtown Charlottesville theater.
Greg Baranoski was walking his dog in Baltimore's Mt. Vernon neighborhood just after midnight on Wednesday morning when he saw a crane. At first he thought it was having trouble making a particularly narrow turn, but quickly realized a crew was taking down the Taney statue. He said he and about a dozen others looked on as the crew worked. It took about 40 minutes, he said.
"It was the fastest thing I've ever seen the city do," he said. "It was amazing, really amazing."
Mr. Baranoski said that until recently, he admired the monuments as pieces of art even though he didn't agree with "what they stood for." But he said in the past few days, he's come to believe that the monuments should be removed.
"A lot of these monuments were placed here in the 19-teens and 20s, years after the Civil War, it was done to remind certain folks who is in power," he said. "I was happy to see them go. Having them out of sight is good for the city, and I hope the city makes plans to do something with the empty pedestals."
Baranoski's suggestion: Replace the Taney statue with one of Thurgood Marshall.
"It'd be super poetic to replace the statue of Chief Justice Taney with Justice Marshall," he said.
https://www.csmonitor.com/