Flashpoints
Mattis: Use of tactical nuclear weapons discussed with South Korea
WASHINGTON – Defense Secretary Jim Mattis confirmed Monday that the U.S. and South Korea have discussed employing tactical nuclear weapons as an option to defend against North Korea's nuclear weapons program.
The acknowledgment from Mattis comes as the U.S. and international community grapple with increasingly aggressive nuclear weapons testing by North Korea.
In the last few weeks, North Korea has tested an intercontinental ballistic missile capable of reaching the U.S. mainland and tested a hydrogen bomb, according to U.S. Strategic Command's assessment of the program.
Last Thursday, as Mattis was at STRATCOM assessing the U.S. nuclear posture, North Korea fired another intermediate range missile over Japan, sending millions of Japanese citizens into shelters.
On Monday, Mattis said there are military options to use against North Korea that would not result in mass casualties for Seoul, but he would not go into specifics.
South Korean Defense Minister Song Young-moo told his parliament he had requested the U.S. consider the return of tactical nuclear weapons to the Korean Peninsula during a U.S. visit with Mattis earlier this month.
On Monday, Mattis confirmed the exchange, but did not provide further details.
"We discussed the option," Mattis told reporters at the Pentagon.
"We have open dialogue with our allies on any issue they want to bring up."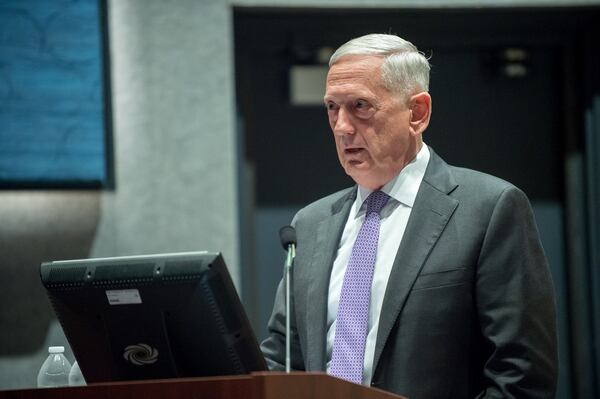 However, the risk of reintroducing the weapon to the peninsula could be grave, said Air Force Gen. John Hyten, STRATCOM commander, who met with reporters during Mattis' visit.
"I think it is actually a very dangerous term to use, because I think every nuclear weapon that is employed is strategic,"
The U.S. has around 500 B-61 low-yield, or "tactical" nuclear gravity bombs ― some with yields as small as 0.3 kilotons in their arsenal, said James McKeon, a nuclear weapons analyst for the Center for Arms Control and Non-Proliferation.
However, it's not the size that determines their tactical or strategic status, McKeon said. The bombs are tactical ― and not governed by the 2010 new Strategic Arms Reduction Treaty, or START treaty ― if they are delivered on a tactical aircraft, such as an F-16 or F-15 fighter jet, McKeon said.
The weapons become strategic if delivered via on of the nation's strategic assets, such as the B-2 or B-52 nuclear-capable bombers.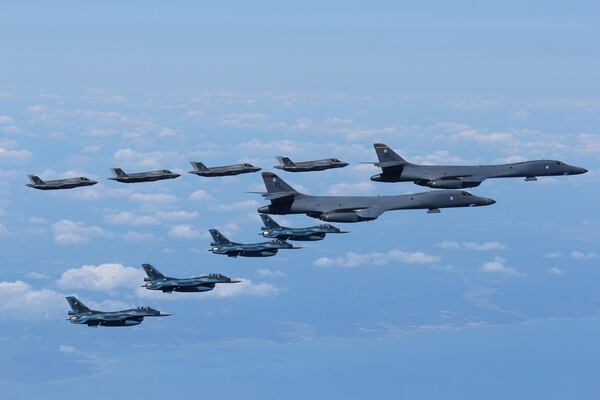 Tactical nuclear weapons were removed from the South Korean Peninsula in 1991 in a previous attempt to get North Korea to abandon its nuclear weapons program.
To Hyten, the weapons are the same regardless of delivery or yield, because of the risk that North Korea would also choose to employ a low-yield device and bring both nations into an escalated, nuclear conflict.
"To call it a tactical weapon brings into the possibility that there could be a nuclear weapon employed on a battlefield for a tactical effect," Hyten said. "It's not a tactical effect. If somebody deploys what is a non-strategic nuclear weapon or a tactical nuclear weapon, the United States will respond strategically, not tactically because they have now crossed a line ― a line that hasn't been crossed since 1945."
Tara Copp is Pentagon bureau chief for the Military Times. Email: Tcopp@mco.com. On Twitter: @TaraCopp
http://www.militarytimes.com/
Hall of Valor
Combat controller to receive Air Force Cross for actions during fierce Afghan battle
Staff Sgt. Richard Hunter, a combat controller with the 23rd Special Tactics Squadron, will receive the Air Force Cross for his actions during a 2016 battle in Kunduz Province, Afghanistan, the commander of Air Force Special Operations Command said Tuesday. 
During the battle, Hunter called in 31 danger-close air strikes in support of his 12-man Army Special Forces team, said Lt. Gen. Brad Webb. Some of those air strikes were as close as 13 meters from friendly forces, Webb added.
The Air Force Cross is second only to the Medal of Honor.
Hunter will be the 11th AFSOC recipient of the Air Force Cross since the start of the wars in Iraq and Afghanistan, Webb said.
On Nov. 2, 2016, "the team was on a mission to uncover a Taliban safe haven, ended up in an ambush, and Sgt. Hunter, as the JTAC and combat controller, called in a number of strikes," Webb said. "It was an eight-hour firefight. They took American casualties. In fact, some of his Army brothers were killed in the exchange."
The team had been ambushed by insurgents in elevated positions along the northern village of Boz Kandahari. Hunter controlled AC-130 Gunships and AH-64 Apaches as the team moved through the village and was ultimately evacuated by helicopter under fire.
Over the course of the engagement, Hunter was "firing his own weapon, protecting others, providing first aid to others, and calling in air strikes," Webb said. "It was an extremely heroic mission. I'm very, very proud of him."
In an August interview with Air Force Times, Hunter elaborated on the situation his team faced in Kunduz Province.
"Picture this: A group of about 50 people, with [about] 50 percent of them attritted to injuries, and half of them not able to walk," Hunter said. "So what are the other half doing? Dragging, carrying bodies. That's what we were doing with them as we were bounding up this alleyway."
Two U.S. soldiers and three Afghan partner forces were killed during the engagement, according to the official account. An additional four U.S. soldiers and 11 Afghans were wounded. After the battle ended, Hunter had controlled airstrikes that killed 27 enemy fighters.
In January 2017, a military investigation determined that 33 Afghan civilians were also killed during the engagement. The investigation concluded that U.S. forces acted in self-defense, however, and were cleared of wrongdoing.
http://www.militarytimes.com
Your Military
McCain: 20 sailors reprimanded in wake of 7th Fleet at-sea incidents
The Navy has issued 20 reprimands to officers and enlisted sailors in the wake of three major collisions in 7th Fleet waters this year that include the fatal disaster involving the destroyer Fitzgerald, Senate Armed Services Committee head Sen. John McCain said Tuesday during a hearing on Navy readiness.
Administrative actions including non-judicial punishment and relief for cause have been undertaken against 20 skippers and sailors from several ships involved in incidents this year, with most stemming from the June 17 Fitzgerald collision that killed seven sailors.
No sailors from the destroyer John S. McCain, which collided with an oil tanker in August and resulted in the deaths of 10 sailors, have been charged or disciplined thus far, according to officials. 
News of the disciplinary tally follows Monday's firing of a two-star admiral and a squadron commander by the new head of the Navy's troubled 7th Fleet.
Vice Adm. Phil Sawyer, who took over 7th Fleet last month after fellow three-star Joseph Aucoin was relieved, fired Task Force 70 commander Rear Adm. Charles Williams and Destroyer Squadron 15 commander Capt. Jeffrey Bennett Monday.
A brief 7th Fleet release cited a loss of confidence in the abilities of Williams and Bennett to command.
Vice Chief of Naval Operations Adm. Bill Moran said in August that the Navy planned to discipline up to a dozen Fitzgerald sailors, including the skipper, in connection with the ship's June 17 collision with a merchant vessel off the coast of Japan that led to seven sailors drowning.
No disciplinary action against any McCain sailors has been publicized to date.
The Arizona Republican's allusion to the reprimands came during an hours-long hearing, where Chief of Naval Operations Adm. John Richardson, Navy Secretary Richard Spencer and a government watchdog head fielded questions from an armed services committee that seemed flabbergasted by the extent of the Navy's readiness issues.
Several lawmakers questioned why recommendations made by the Government Accountability Office over the years had not been implemented by the Navy.
McCain called it "troubling" and "unacceptable" that 37 percent of Japan-based destroyer and cruiser certifications were expired as of June.
"As leaders of our Navy, you must do better," he said.
Richardson said his fleet-wide review in the wake of Fitzgerald and McCain collisions, which claimed the lives of 17 sailors total, will be completed by the end of October.
He also said the service is not waiting on that review to make changes.
Ships transiting in high-traffic waters of the West Pacific are now activating the automatic identification system, or AIS, which tracks the movement of commercial vessels, Richardson said.
"We had a distorted perception of operational security, that we kept that system off our warships," he said. "One of the immediate actions following these instances is that in particularly heavy areas, we're going to turn it on."
Richardson said AIS use in such situations poses no operational security issues because "you can look outside and see the ship."
Material inspections of ships are also underway, he said.
The GAO has issued 14 recommendations in the past three years to improve readiness, GAO Defense Capability and Management Director John Pendleton said at the hearing.
Recommendations included urging the Navy to assess the pros and cons of basing ships overseas, as well as revising deployment schedules, among others, he said.
"DOD and Navy agreed with us, at least on paper," Pendleton said. "But they've taken little action to implement our recommendations."
McCain asked Richardson about the fact that the GAO has been warning of Navy deficiencies for years.
"How do you explain that, admiral?" McCain said.
Richardson responded that he had "no explanation," but that the service remains committed to closing such shortfalls and is not sitting idle.
Senators on both sides of the aisle lamented the effects of sequestration and continuing resolutions, legislative moves that have brought spending cuts and uncertain funding streams to the military branches.
Spencer called such moves and their effects on the Navy "very disturbing."
Richardson again said there is no indication to date that the Fitzgerald or McCain were the victims of a cyber-attack. adding that he had just gotten an update from a team dispatched to the McCain, and that there was "still no evidence of any intrusion or tampering yet," and that the investigation continues.
Navy leadership also answered questions on the readiness of ships home-ported overseas and the lack of training for those crews.
Sen. Richard Blumenthal said having expired certifications on those ships increase from under 10 percent to 37 percent "in just two years is pretty staggering."
"Most Americans find these crashes incomprehensible," the Connecticut Democrat said.
When it comes to the perennial lack of sleep and extensive work hours plaguing ship crews, Richardson said alternatives are being studied to allow crews to get rest that better aligns to the body's natural rhythms.
McCain thanked the panelists for their efforts but bemoaned the lack of quick, immediate action that could help mitigate some shortfalls.
"If we know that somebody's working a 100-hour work week, I'm not sure we need a study," he said.
"When somebody's working 100 hours a week over a period of time, they're going to make mistakes," McCain said. "Any manager can tell you that."
Committee members and the Navy panelists also discussed the Navy's so-called "can do" culture, and how perhaps too much has been piled on the sea service's plate.
"No one's taking a rock out, and the rucksack's getting pretty damn heavy," Spencer said.
http://www.militarytimes.com
Your Military
Army reservist dons bomber jacket, channels Maverick in campaign video
If you've seen a video of a guy in a "VETERAN" tee shirt, butchering "You've Lost That Loving Feeling" in a Top Gun reenactment, floating around the internet in the past couple of days, there are two things you should know: 1. Maj. Dan Helmer is actually in the Army, and 2. He knows it's bad, and it's on purpose.
Helmer, 35, is a reserve intelligence officer who spent 11 years on active duty, with one deployment each in Iraq and Afghanistan, and he wants to be the Democratic congressman from Virginia's 10th District.
"It's an iconic scene, one in which we could have a little fun and be in on the joke ourselves," he told Army Times in a Tuesday phone interview. "I'm no fighter pilot and the last thing that anybody wants to do is fly on an airplane with me at the stick."
And the jacket has an Army patch on it, he added.
The video is meant to call out current 10th District Republican Rep. Barbara Comstock, whom Helmer sees in a bar and serenades her with a ditty about "losing that centrist feeling."
"We have a representative right now who refuses to meet constituents and answer their questions in an open forum," Helmer said. "It's a serious issue but one in which we thought a little levity could go a long way toward highlighting it."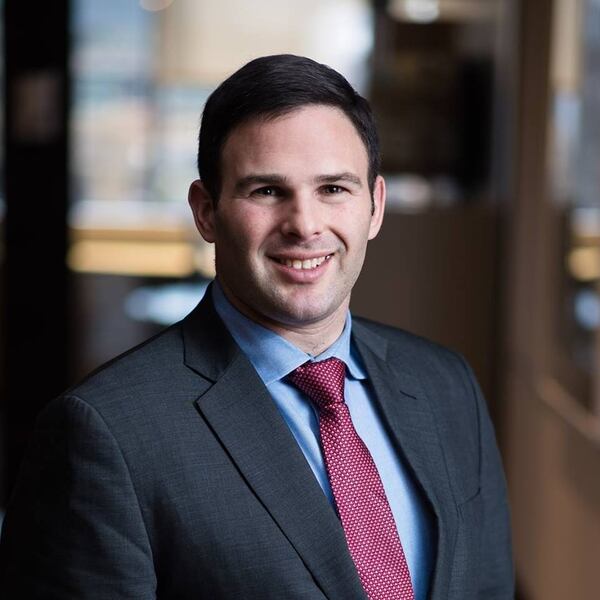 Helmer graduated from West Point in 2003 and started out as an armor officer. He served with the 4th Infantry Division in Iraq in 2004, earned a master's degree at the University of Oxford on a Rhodes scholarship, deployed again with the 1st Infantry Division in Afghanistan in 2007, then spent three years in South Korea.
After moving back stateside, Helmer said, he decided to leave active duty for his family. 
"At the end of the day, the thing that made me move over to the reserves instead, is that I'm married, I have two kids, my wife is a public school teacher," he said. "I recognized the challenges of a military spouse and a dual-career family."
So he went to work on government strategy  for the Boston Consulting Group in 2014, keeping a position in the reserves. But the last presidential election inspired him to return to public service.
"I was devastated at the state of our politics and shocked at the outcome of the election," he said. "I'm the son of an immigrant, I'm the grandson of [Holocaust] refugees, and my wife and I want the country that welcomed us here to still be here for our sons."
Helmer's website outlines 10 issue positions, from "safety and security" to "women's health," "an inclusive society" and "constitutional government."
"In the military we put mission first and there's a real opportunity to carry mission first and the dedication to politics and our country that's been absent for many years," he said. "We have a sacred obligation to take care of those who have served. And as a congressman I will make sure that we honor that."
The 2018 election is more than a year off, though, so in the meantime he'll be talking to constituents and preparing a campaign platform that serves their needs, he said.
And as a follow-up, Helmer's campaign released a second video on Tuesday, asking for donations to encourage more campaigning and less singing.
www.militarytimes.com
Pentagon & Congress
Mattis: Budget uncertainty leads to questions of whether America 'has the ability to survive'
Secretary of Defense Jim Mattis believes that years of budget uncertainty have left the U.S. military in such a precarious position that if it is not solved soon, it will represent an existential threat to American security.
"If we don't get budgetary predictability, if we don't remove the defense caps, then we're questioning whether or not America has the ability to survive," Mattis said Sept 20. "It's that simple."
Secretaries of defense complaining about budget uncertainty is a time-honored tradition, especially since the enactment of the Budget Control Act in 2011. But Mattis' comments, made during a keynote at the annual Air Force Association conference, may be the most forceful from a sitting secretary.
"Despite the casualties, the loss of our wonderful, beautiful young troops, thousands of them over the last sixteen-odd years of combat, nothing has done more damage to the readiness of our armed forces than the continuing resolutions that stop us from taking initiative, than the lack of budgetary predictability," Mattis said.
Congress recently agreed to put the government under a continuing resolution through Dec. 10, which limits spending at fiscal year 2016 levels and prevents the Pentagon from launching new programs. This represent the 30th CR enacted over the last decade, lasting for over 1,000 days in total.
And it is unknown if regular budgetary order will return on Dec. 10 or if major issues, such as funding for a border wall sought by President Donald Trump or attempts at modifying health care and the tax code, will create more roadblocks.
"We have got to move with the Congress, and the Congressional leaders are calling for this, toward passing the president's budget towards lifting, removing the defense caps … so that we maintain our competitive edge. Otherwise it will erode," Mattis added.
In a speech filled with support for the capabilities of the Air Force, Mattis highlighted a few areas where he would like to start investing if he can get budget certainty going forward.
That includes space and cyberspace, "where we need new starts in order to take advantage of what our industry can deliver if we're willing to invest there."
He also cited future global strike, close air support, global intelligence, global mobility, global surveillance and global command and control as areas where new investments are needed.
Notably, Mattis said warfighters need to look beyond technology when discussing command and control and develop their own initiative, because of the possibility they will be cut off from headquarters due to enemy activity.
 http://www.militarytimes.com
Veterans
VA fires medical center director for the second time this year
WASHINGTON — Veterans Affairs officials for the second time this year fired the director of the department's medical center in the nation's capitol, this time using new accountability measures passed by Congress this summer.
The case now becomes the first major test of those new firing rules, signed into law by President Donald Trump in June and heralded by supporters as a way to clean up a culture of corruption at VA. But union officials have been skeptical of the changes, saying shortened appeals times and broader authorities for political appointees may result in legal challenges.
Brian Hawkins, who had been director of the medical center since 2011, was originally fired in July but reinstated as a VA employee just a few weeks later after the Merit Systems Protection Board halted the firing while they reviewed assertions that he was wrongfully terminated under existing federal employment laws.
Hawkins had been reassigned to administrative work in April after reports that patients at the medical center — just a few miles from Capitol Hill — were being endangered by widespread problems of lost medical supplies, unsanitary conditions and systemic mismanagement. Later investigations found that Hawkins shared sensitive medical information with his wife in unsecured email accounts.
After his reinstatement, VA Secretary David Shulkin issued a statement indicating he would look into other ways to dismiss the embattled supervisor.
"No judge who has never run a hospital and never cared for our nation's veterans will force me to put an employee back in a position when he allowed the facility to pose potential safety risks to our Veterans," he said in a statement.
On Wednesday, Shulkin called using the new firing authorities to dismiss Hawkins again "the right decision for veterans in D.C. and employees at the medical center."
Hawkins was informed in late August of VA's intention to dismiss him again, in keeping with the new appeals procedures. Neither he nor his attorneys have issued public statements on whether he will fight the decision again.
VA officials said that before the new accountability measure became law, the timeline for firing employees stretched more than 50 days because of notification and appeals rules. With th new changes, that time should be cut in half.
In addition, the VA secretary now has authority to reprimand or fire senior executives through a 21-day internal department grievance procedure, replacing a previous process ruled unconstitutional earlier this year. VA officials can also recoup certain bonuses from former employees found guilty of wrongdoing in some cases.
Hawkins firing is not the first use of the new accountability rules, but is the highest-profile firing under the new authorities thus far. 
Since Trump's inauguration, VA officials have fired more than 875 employees, most under authorities in place for years.
Author
 www.militarytimes.com